Monthly Meeting Recap - March 2020
Friday, March 6, 2020
The Williston API held their March General Monthly Meeting on Tuesday March 3rd. Kerri Espeland discussed the financials and donations as follows. The February beginning bank balance was $38,610.47, we deposited checks of $64,920.76, received $2.18 in interest, wrote checks for $49,560.26, with an ending balance of $53,973.15. API has three CD's $6,057.07, $6,116.27, and $6,046.67 and the scholarship checking account bank balance is $21,738.00.

The following donations were made:
Joe Doss - $1,000
Larry Viall - $1,000
Travis Cortner - $1,000
Teton Hockey - $1,000
Williston Herald -Community Sponsorship - $1,000
Williston United Futbol - $1,000
Missouri Basin Bowman Club - $1,000
Week of the Young Child - $1,000
Williston Coyote Foundation – Boston Gluckert Memorial - $1,000
WDFMS Event – Magic Show - $150
WSC Foundation – Oil & Gas Sculpture - $15,000
Williams County Complete Count Committee - $500

Donations Given on Giving Hearts Day (Doubling our donations) $9,500 turns into $19,000
American Cancer Society - $1,500
Make-A-Wish - $3,000
Turtle Mountain Animal Rescue - $500
Salvation Army - $1,000
Path North Dakota - $500
Dakota Boys and Girls Ranch - $500
Boys Scouts of America, Northern Lights Council - $500
Williston Trinity Christian Schools - $1,000
Upper Missouri Ministries - $1,000

Janna Lutz from CHI Foundation gave current update on Foundation - report on the hospital needs, past updates, and future needs. A few members spoke up of how important CHI Hospital is to our community. One member said his daughter was just born at the new birthing facility and she had complications and the experience with the hospital and staff was second to none. Another person spoke who had a friend that was burned from an oil related accident and decided to have all the treatments done at CHI because of the quality of care. The entire group expressed how important CHI Hospital is to our region. The board of directors approved $1,000 with the recommendation of $5,000 with the membership approval. A motion was made, second and passed the first reading to donate $5,000 towards the CHI Foundation, a second reading will take place next month. 

Ken updated the membership that next month we will discuss the 40th Annual API Golf Tournament that takes place on Thursday and Friday, July 9th and 10th 2020. Ken also told the membership our goal is to pay off the Oil & Gas Statue at Williston State College and have an unveiling later this summer.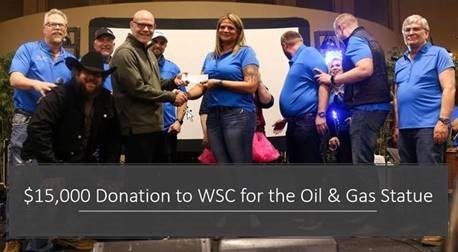 Brent Bogar and John Rosencrans presented on Wise Roads, they went into detail about all three phases and how this great program that will help communications with the industry on the road conditions. Brent answered questions for about 20 minutes. He was praised for such a great program. Wise Roads won the Industry Innovation Award at the Williston Basin Chapter of API Awards Banquet this past November in Williston. 
We thanked Halliburton again for sponsoring the meal, they continue to help in our community and industry. Ken informed the membership that Lochend Energy Services will be the program and sponsor for the April 7th meeting, and the Williston Economic Development will be the program and sponsor for our May 5th meeting. 

Door prizes and few API coats were given away. 
Chili Cook-Off