North Dakota Motor Carrier Law Changes for August 1st
Monday, July 31, 2023
The following laws changes will take effect on August 1st in North Dakota.  
Over width permits can travel up to 12' wide at night with properly lighting.  (increase of 2'.)
We will have 4 new 30-day multi-trip permits. The cost will be $50 for the following permit types:  
Interstate

Bridge Length 




Overwidth up to 14'6




Overlength up to 120'
They will be located under the multi-trip option.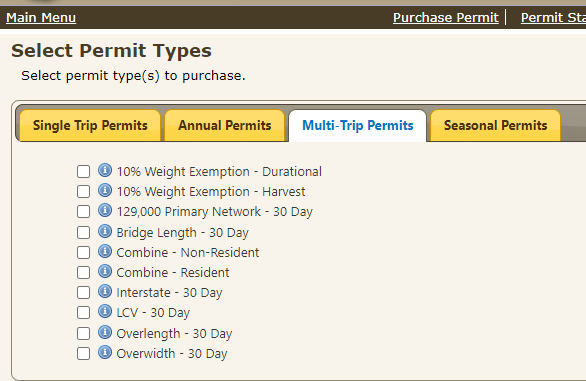 Annual permits will have the option to be valid 365 days or expire December 31st.  Permit will not be prorated for the shorter time frame. (see screen shot for sample of duration below.)  

129,000 Primary Network permit.  If 80,001-105,500 pounds you can use the 129,000 primary network permit on the interstate. You will not be required to purchase an interstate permit if a 129,000 permit is in possession.  We will not see change to the permit policy it was just a fix in Century Code.  
Additionally, we are changing the price of the service fee. It is currently $10 and will be lowered to $8. 
Polices will be uploaded to the NDHP Motor Carrier page August 1st or shortly after.  
Happy Hauling!  
Jackie Darr
Permit Office Supervisor, Motor Carrier Operations