2021 Williston Petroleum Banquet
Thanks to all who attended the 10th Annual Williston API Awards Banquet and a special nod of gratitude to our sponsors. 
We recognize that dinner was served slowly and that our program ran long, resulting in abbreviated award recognition. We will address these issues for future events and would like to take a moment to highlight the nominees and winners. 
Industry Innovation Award
Creedence Energy Services - Winner
Creedence Energy Services' acid circulation pump truck with a closed-loop manifold system is the first of its kind in the Williston Basin. This system addresses flowline restriction and blockages at the wellhead due to scale or solid buildup. A portable pump and manifold system safely circulates an acid blend across the plumbing to dissolve the buildup. The design allows for operators to return their once restricted wellheads to new, working conditions with minimal downtime, no replacement cost, and increases safety.
Crusoe Energy
If the gas wasted in flares each year was used to generate power, it would be enough energy to power the entire continent of Africa. By converting wasted natural gas to energy-intensive computing, Crusoe's patented Digital Flare Mitigation (DFM) systems deliver an efficient way to use otherwise wasted natural gas. By capturing natural gas that would otherwise been flared and repurposing it to power energy intensive computing, DFM offers operators a cost effective, regulatory complaint, environmentally friendly solution to flaring.
NewKota
The Gorilla Jack is a purpose-built, proprietary hydraulic jack system, engineered specifically for handling polish and sucker rods during service operations. For certain tasks in the workover segment, any kind of derrick-oriented unit can cause time-delays, cost-increases and safety risks. When it comes to light remedial work, the Gorilla Jack provides an economical, safe, cost-effective alternative to using large oil and gas service equipment, allowing clients to focus their rig fleets on true rod and tubing operations.
Community Service Award
Busy Bee's
Loyalty. Respect. Honesty. Integrity. Those are the values Busy Bee's Strives to operate by. They invest in the community to build a stronger foundation for future generations. On top of sponsoring numerous community outreach programs, they also participate in activities such as coordinating holiday food drives along with matching donations. Busy Bee's employees also serve on a variety of committees and boards such as McKenzie County Skills Initiative, TrainND Advisory Board, UND Advisory Board, and various NDPC sub committees.
Industrial Equipment Sales and Service - Winner
As the owner of IESS, Stewart Vachal is adamant about giving back to the community that helps his company thrive. In addition to contributing to community organizations, he also donates his time to help them achieve their goals. Stew has been greatly involved with the Feed My Starving Children program holding employee contests to see who could raise the most funds and even matched donations. His charisma and relentlessness helped to raise enough money to feed 250,000 meals to children in need.
Whiting Petroleum 
Whiting believes that improving the community's overall wellness advances individual and community prosperity. They fund organizations that provide access to affordable health care and support, affordable food and housing, as well as programs that guide individuals and families to achieving economic opportunity and self-sufficiency. The way they interact with the communities where they live and operate sets Whiting apart. Their growing community commitments are a direct reflection of their culture.
Outstanding Achievement Award - Group 
EnerPlus
Water is vital to life and EnerPlus has taken a heavy stance on reducing their needs of fresh water in their operation through increased water recycling. In 2020, 81% of their water volumes were reused corporately. EnerPlus has demonstrated to the communities they are involved in how much they care about using water responsibly and effectively. They have laid out their goals of reducing water usage as well as implementing new ways to recycle water, and have made great strides toward achieving those goals.
Red Trail Energy
Red Trail is the first organization to obtain a permit to store carbon dioxide in the subsurface in North Dakota, and it's only the second permit of its kind in the nation. The ability to store carbon is critical to a sustainable energy future for our nation. It is never easy being first, and Red Trail has been taking the lead given over 20-years of work to position North Dakota to lead innovation and energy production for the nation. Red Trail's willingness to pioneer the first carbon storage project is truly an outstanding achievement.
UND Petroleum Engineering - Winner
The university recently held a groundbreaking for one of the world's largest oil drilling simulators. The Petroleum Engineering department now hosts a facility that can benefit students and industry. The facility aligns activities with the needs of North Dakota and the region and offers unique research and training capabilities to the oil and gas industry and to the state. The program began in 2010 in response to demand for engineers in the Bakken. Over 180 graduates now lead organizations working in North Dakota and are supporting the industry in various roles at operating and service companies.
Outstanding Achievement Award - Individual
Brock Clingman 
Beginning a lifetime as a dedicated oilman, just out of high school, Brock roustabouted up in Lignite. Brock has worked in nearly every stage of the industry, from bringing the oil out of the ground on the drilling rig, to the many steps in between until becoming a production consultant. He has also served the public as a deputy sheriff and as a long-time Williston Rural Firefighter volunteer. He is always the first in line to help others and do whatever it takes to keep the ball rolling.
Jason Baker
As the owner and CEO of Baker Consulting, Jason has over 15 years of diverse professional experience in management, business development, and client relations. He is a registered Professional Engineer in North Dakota, and has a BS and MS degree in Civil Engineering from NDSU. His background has provided several opportunities for unique and challenging projects working with federal, tribal, state, and local agencies. Under his direction, the company has grown to be one of the most recognizable and respectable oilfield service companies in the Bakken.
Jeff Holte - Winner
Jeff has experienced the oil & gas industry from the eyes of the "worm" on the drilling rig to the successful owner of an oilfield consulting business. Throughout Jeff's 40 plus years in the industry, he has always exhibited a level of professionalism and respect for his colleagues and employees. Jeff stated at the bottom and worked his way up through hard work and dedication. He stated out by putting up tank batteries and roughnecking. He has been employed by Kenting Drilling Nabors Drilling and finally Petroleum Experience, where his work as a consultant eventually led him to purchase the company. Jeff has employed hundreds of consultants throughout the years on the drilling and production side. He treats his employees like family and understands that behind any successful business is a team of dedicated employees.
Volunteer-of-the-Year
Crysie Hendershott
Crysie volunteers at all of our events, including the monthly general membership meetings. She recently created a binder to hold historic documents for Williston Basin API, including the organization's correspondence, newspaper articles, etc. She not only organizes her own team's booth and decorations at the API Chili Cook-off, but she also makes time to run the "chili games" for the event. No one can multitask like her. Not only can she take on multiple tasks at a time, but she does it all with excellence. She makes everything fun! She creates a theme for the golf tournament banquet every year and creatively decorates the event space. She helped make tonight's banquet the biggest and brightest in our history, bringing our Hollywood theme to life.
MVP Award
Kerri Espeland
Kerri is the glue that helps keep our organization together. She is a fantastic Williston Basin API member, and still finds time to help at all of our events, including our general membership meetings. She challenges and motivates the API board and committees to engage with the community and sets high fundraising and community engagement goals. She is a natural at it - no one can say no to her! She has played an integral role in the organization's restructure, transitioning some of the API board responsibilities to committees. Her attention to detail is impeccable. She is a leader, and always rises to the occasion. She is not afraid to speak up and tell you how she feels - a lot of changes the organization has made are from her input and we value her insight.


Lifetime Achievement Award
Lynn Helms
Lynn Helms grew up on a cattle ranch in Harding County South Dakota where he learned the benefits of agriculture, prairie ecology, resources, and conservation. Lynn earned his Bachelor of Science Degree in Engineering from South Dakota School of Mines and Technology and a Masters of Petroleum Engineering from the University of North Dakota. 
His work in the oil industry began as a roughneck working holidays and summers during college and has taken him all over the world. Most recently, Lynn has served as Director of the North Dakota Industrial Commission Oil & Gas Division since July 1998 and Director or the Department of Mineral Resources since it was formed in July 2005. Before moving to Bismarck to work in state government, he worked as a production engineer, reservoir engineer, and asset team leader on projects in Abu Dhabi, Alaska, Arkansas, Louisiana, Mississippi, Montana, New Mexico, North Dakota, Texas, and Wyoming.
He is an active member of Dacotah Mandan Lions, Dakota Christian Camp, and Bismarck Church of Christ working on service projects and teaching classes for preschoolers through adults. When he's not working or volunteering Lynn enjoys spending time with his wife, adult children, grand-children, hunting, and horses.
Our Keynote was incredible! At times the crowd roared, he was so engaging and a fantastic speaker!!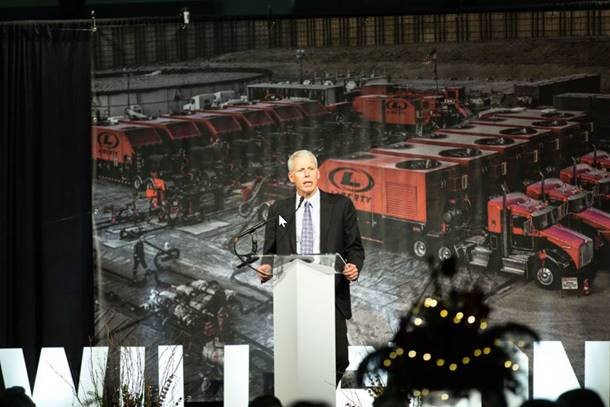 Once again, we appreciate your participation and look forward to your involvement in the future.

Sincerely,
The Williston API Board